7th Annual UKIAFT AGM Meeting
Oxford, August 31st - September 1st 2017
---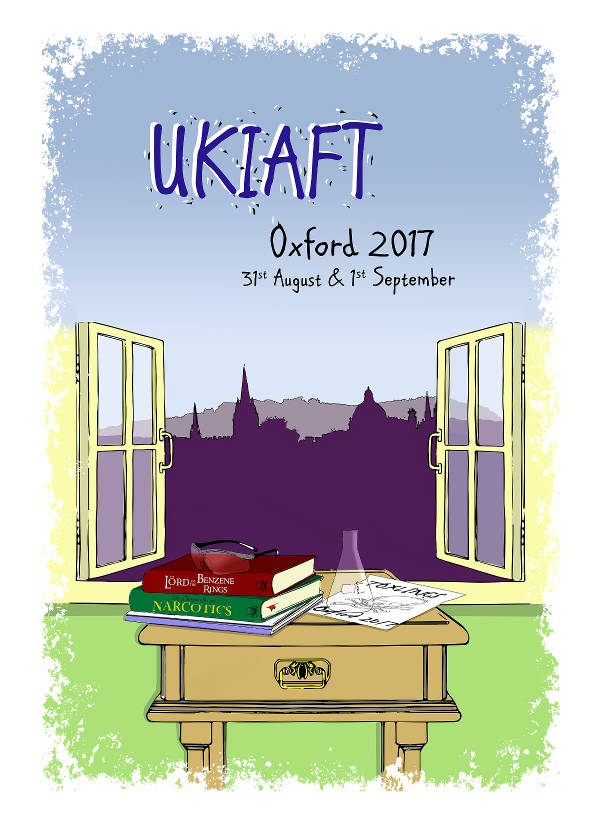 Host Organisation
Susan Grosse, LGC Forensics, UKIAFT2017@lgcgroup.com
The two day Oxford conference on the 31 st August and 1 st September 2017 will include the UKIAFT AGM (Thursday morning), with scientific sessions running on Thursday afternoon, Friday morning and Friday afternoon.
Main Conference Themes: Developments in Forensic Toxicology, Drugs and Driving and New Psychoactive Substances.
Anyone wishing to give a presentation in the scientific sessions (oral or poster) should submit an abstract of the presentation/poster which should not exceed 500 words in length. Abstracts should be submitted electronically as Microsoft Word files to UKIAFT2017@lgcgroup.com
The deadline is Friday 7th July for oral or poster presentation abstracts.
Registration
- Conference Rate: £160
- Student Rate: £90
UKIAFT are offering bursaries for the first 10 students who submit an abstract which is accepted for a poster or oral presentation. This bursary will cover the cost of the registration (£90 per student).
Details on how to register will follow shortly.
Meeting Location
Getting to/from Wolfson College
Buses to and from the city centre of Oxford are numerous and frequent, and leave from the end of Linton Road. All buses from the College into town stop on St Giles' and most buses from the centre to Summertown along Banbury Road stop at the end of Linton Road. For timetables and fares, visit The Oxford Bus Company or Stagecoach websites.
Travelling to Oxford
Train:
The train station is approximately 10 minutes walk from the centre of Oxford and 45 minutes walk from Wolfson College.
Coach travel:
To get to and from London, there are two regular coach services run by The Oxford Bus Company (the X90 coach) and Stagecoach (Oxford Tube). The journey takes between 90 and 120 minutes depending on the traffic. Both leave from Gloucester Green Bus Station, Queen's Lane on the High Street, St Clement's and numerous other stops.
Air travel:
Birmingham International, London Heathrow International Airport and Gatwick Airport have easy public access to Oxford. All have regular bus services to Oxford. Heathrow and Birmingham are also easily accessible by train
London Heathrow International Airport and Gatwick Airport are linked to Oxford by The Airline coach service, which operates 24 hours a day, seven days a week from many of the same bus stops as the X90 and the Oxford Tube.
Car Parking Suggestions near to Wolfson College
There will be a limited number of parking spaces available at the college – please let Susan Grosse know if you will be bringing your car so she can reserved a place.
Street parking around the college is restricted.
A Park and Ride bus service operates between the Water Eaton site (north of the ring road near Kidlington) and the City Centre. There is a stopping point on the northbound and southbound routes, on Banbury Road opposite the end of Linton Road (tell the bus driver you want to get off at the "St Margaret's Road stop"). It is approximately a five-minute walk from this junction to the College.
Accommodation suggestions
20 bedrooms at Wolfson College are on hold for delegates from 30th to 3rd (allowing you to stay after the event if required to explore Oxford further)
Price £50 per night with promotional code UKIAFT2017
To book: www.wolfson.ox.ac.uk/node/905
More rooms can be allocated, if required and available, therefore early booking is recommended.
Oxford has a range of accommodation available. Advise searching Google or Trip Advisor.
Social Events:
Wednesday 30th August 2017 – Evening Meal – to be arranged if required. Please contact Susan Grosse on UKIAFT2017@lgcgroup.com if you would like to attend the meal.
Thursday 31st August 2017 – Oxford Castle Unlocked Social event including guided tour of Oxford Castle followed by a Hog Roast.
Further details to follow.